Inbox view
Inbox
The inbox provides a real-time view of the responses that Siftrock is handling on your behalf. In your Siftrock inbox, you can see the entirety of each of your emails, as well as the data that Siftrock has mined and synced via your skills. The emails in the list can be filtered and exported for import into your marketing automation, CRM or email tool of choice.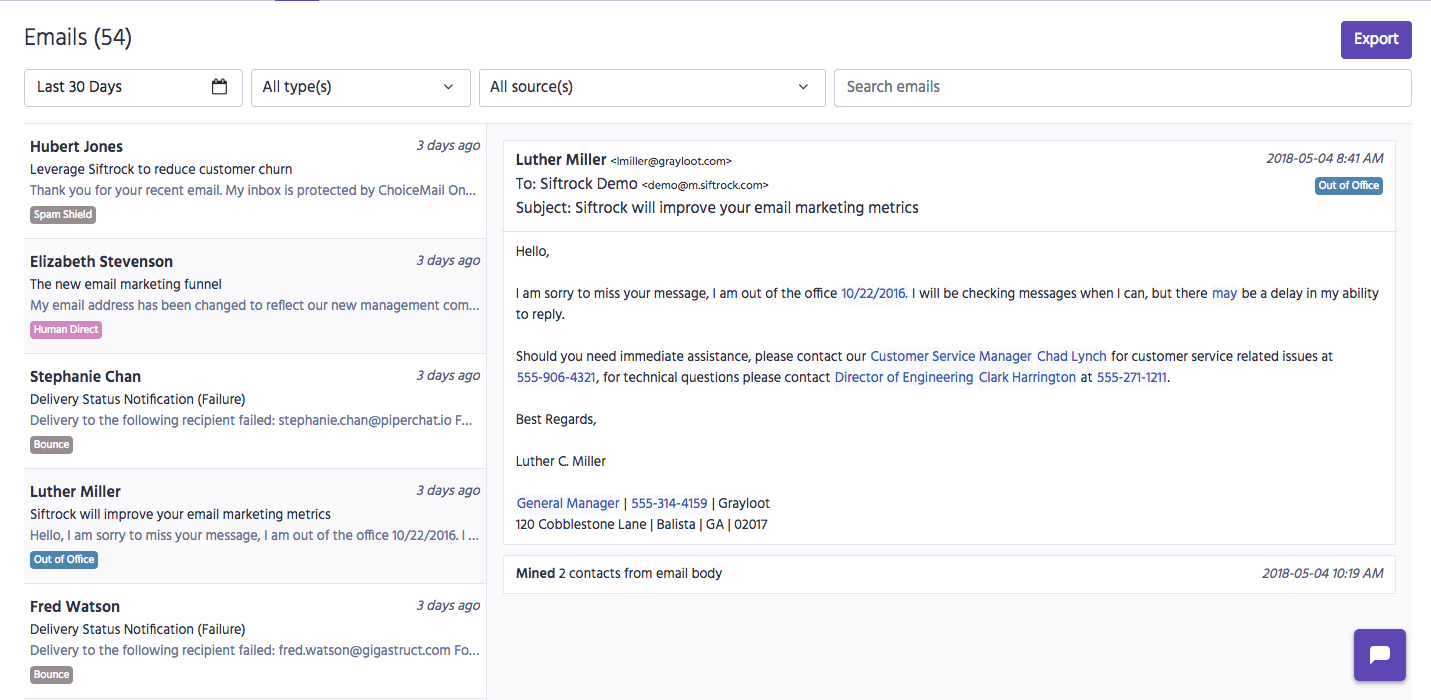 Filters
The filters area of the page allows you to specify the type of the data you are viewing. Your filter settings will persist during your session and reset to defaults when you've been offline for more than 30 minutes.
Filter 1: Date range
This filter sets the number of days to go back for replies. The application currently supports going back 1 day, 7 days, 30 days, or 90 days. You can also specify a custom date range which gives you the option of choosing the dates you would like to see. 
Filter 2: Type
This filter allows you to specify a certain reply type or types that you'd like to see. For example, if you only want to view the Bounces, you can filter to just that type. The reply classification help page has a description of the reply types supported by Siftrock.
Filter 3: Source

You can also filter by the marketing email address (which we refer to as the "source") that you originally sent from and see the replies sent to each email address. When clicking this filter, you have an option to select the sources you would like to foucs on.
Filter 4: Search
In addition to the above filters there is a search box across the top of the screen that allows you to look up replies by recipient. Typing in the search box will look up recipients by name or email address.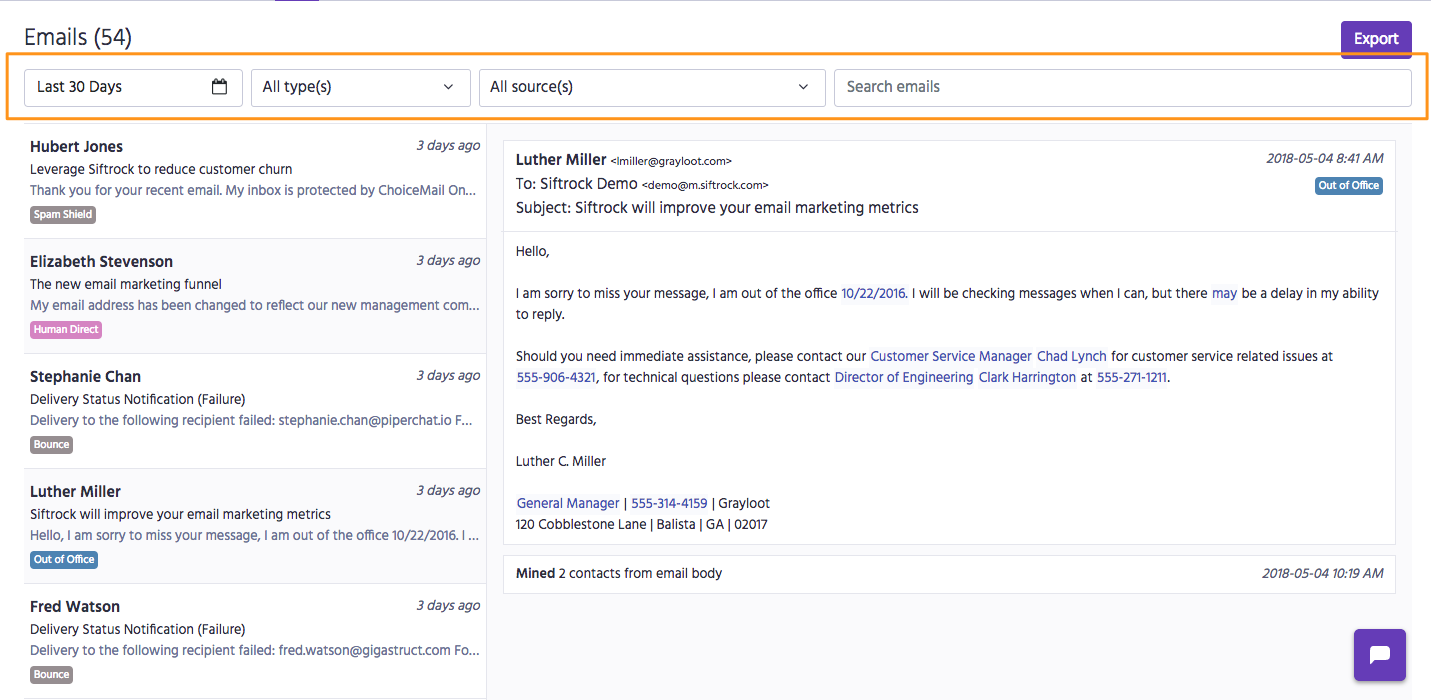 Skill History
When you click into the inbox tab, you will automatically see a list of your emails in the left hand side of the screen, as well as an in depth look at the first email in your inbox. Within this view, you can see the data that we've mined from the email (highlighted), as well as what we've synced via your skills. In this example, you can see that we've mined 2 contacts from the email body.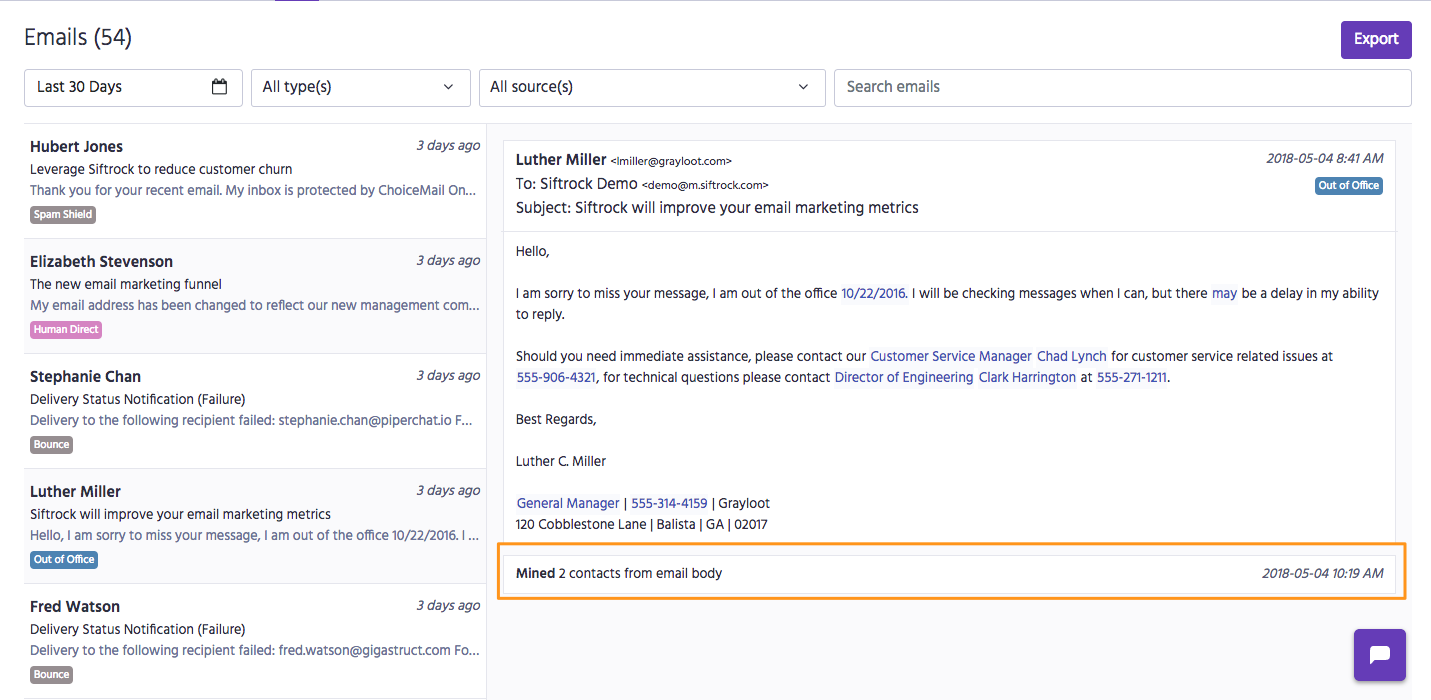 Export
You also have the option to export your data via the "export" button in the top right of your screen. This will automatically download a CSV of your inbox and its associated data. If you have filters currently in place on your inbox when exporting, those filters will reflect in the export. 
---
---