Act-On: Route Workflows
Do you receive human replies to your marketing emails? Do you ever get direct inquiries to a marketing alias? If so, you can set up a route workflow within Siftrock to send those human emails on to a specific email address, or, if you're using a subdomain, you can dynamically route those human replies to the correct person. See the step by step instructions below to get started. 
First, click the Automate tab in your account followed by "Sync Workflow Settings." From there, you have the option to click "New Workflow" in the top right corner of the app. Then, you'll select "Route Email" as shown in the screenshot below.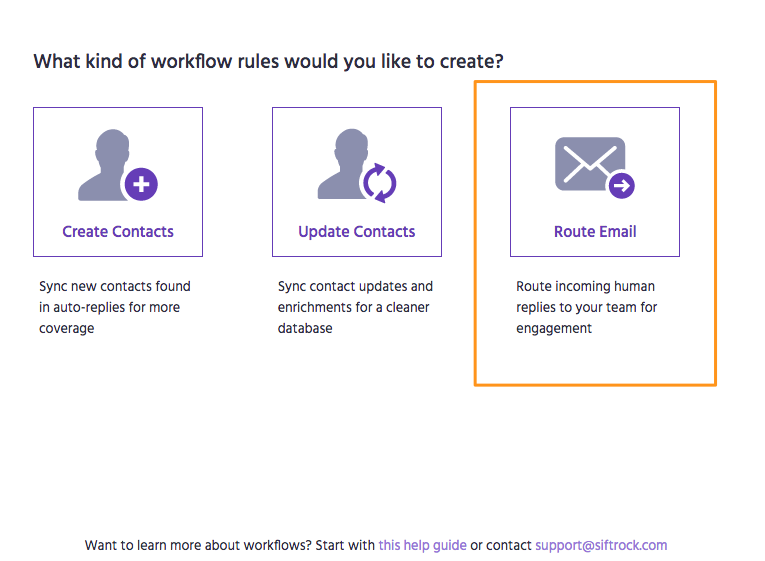 Next, you'll be taken to the set up steps for your routing workflow. The first step is to choose the emails you would like to route on. Typically, we suggest sending on the human replies. If you also receive direct emails to your marketing alias, you will want to also select human direct. You'll also have the option to select which languages you want us to send on.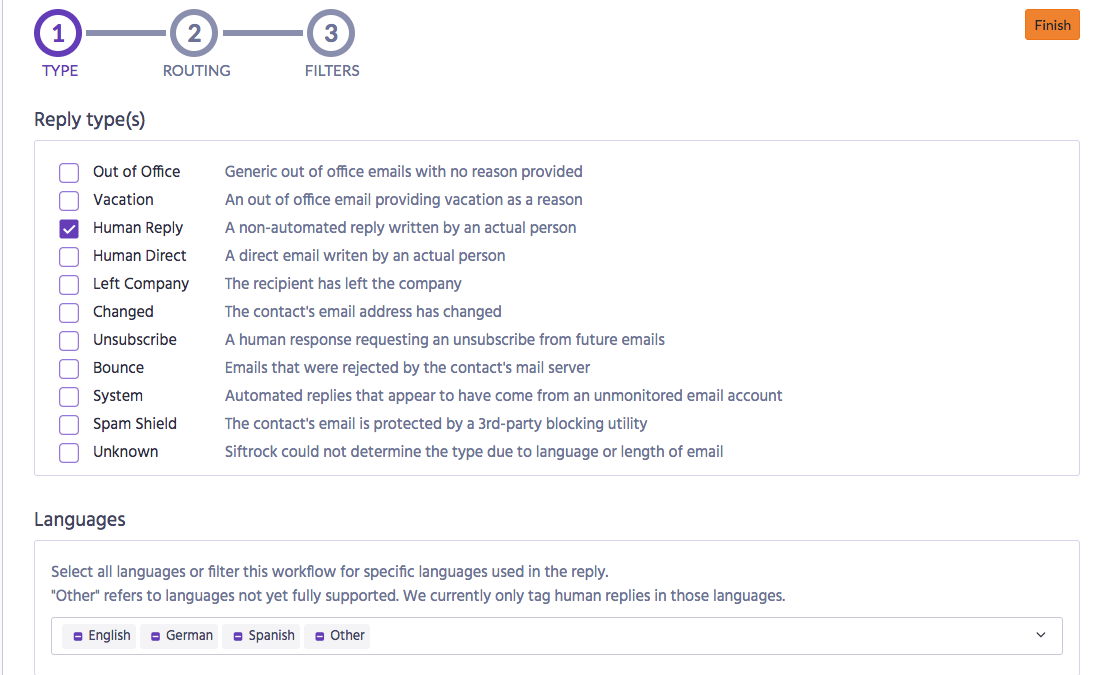 Once you've selected which emails you want to route, you can choose where we'll send the alert. You can either input a static email address to send the replies onto (for example, your own email address). Or, if you're using the subdomain set up, you can dynamically route the replies to the email address which matches the alias in front of the subdomain. 
Option 1: Route to specific people: 
In this routing option, you can specify specific email addresses where you want the emails to be sent. This will send a copy of the email as an alert from alerts@siftrock.com to the email addresses you add. In this example, we're sending the emails to lauren@siftrock.com

Option 2: Routing via dynamic alias:
Many marketing teams send emails on behalf of actual members within the organization, or even on behalf of sales reps who manage the prospect to make them more personalized.

Setting up a dynamic alias ensures the emails matching your workflows get sent to the correct person. Here is an example:
Let's say we've set hello.siftrock.com as our reply domain. Someone on our marketing team (let's call her Susan Jones) is sending emails that are personalized and sent from susan.jones@hello.siftrock.com.
But Susan's actual email address is susan.jones@siftrock.com (note the missing "hello" portion of the domain).
A dynamic alias tells Siftrock to take any replies that came back to susan.jones@hello.siftrock.com and send them on to susan.jones@siftrock.com.

Once you've decided which address to route your emails to, you can also decide to filter.
For routing, you may want to filter on a specific source email address (this would be the marketing email address you sent the original marketing email from). You can also filter by the sender's email address (which would refer to the person sending the reply/direct email) as well as the body text. In filtering, you can both include and exclude.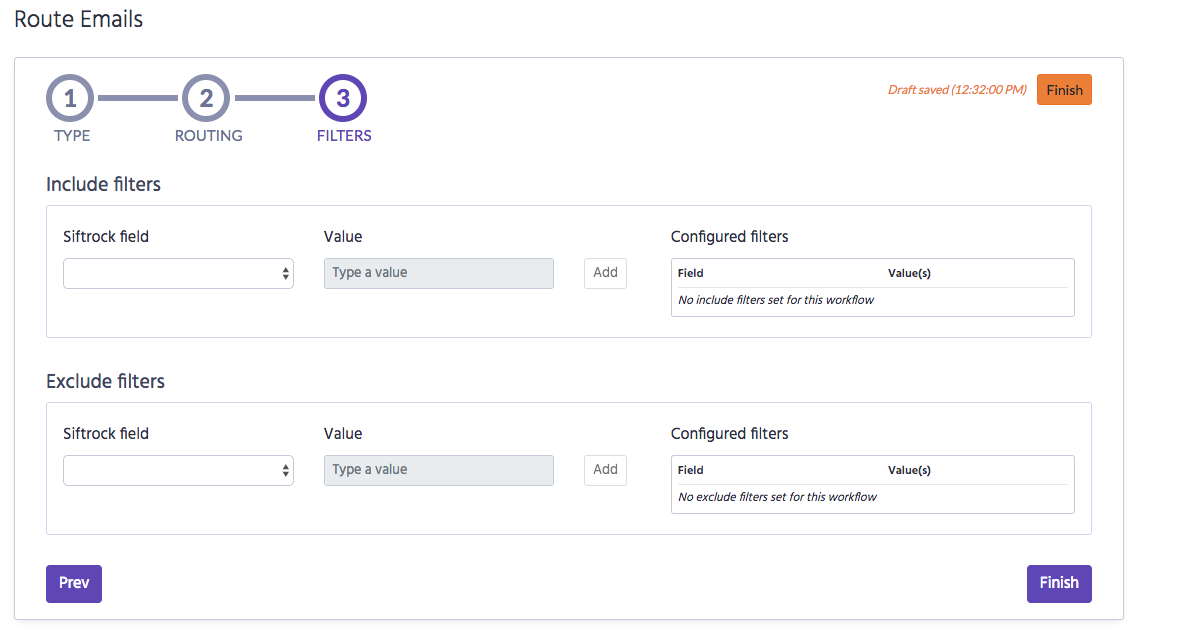 Once you've put any filters necessary in place, you've finished your routing workflow. Once you hit finish, you'll be taken to the workflow list where you can set the workflow to "on." From there, we'll start sending on human replies to the specified address. 
If you have any questions regarding routing workflows, please reach out to support@siftrock.com
---
---