Gmail Inbox Connector: Set Up
Do you have one or many shared Gmail inboxes where you marketing replies like marketing@abc.com or newsletters@abc.com? Are those inboxes overflowing and painful to manage?

Our Gmail plug-in is the easiest way to start feeding your replies into Siftrock. From there our machine learning will manage, mine, and measure all your replies and sync database updates to your MAP.
Here's how to get started:

_________________________________________________________
Step 1:  Connect with an Inbox Directly or Send Invites to Your Marketing Inboxes 
Go to your Settings --> Inbox Connections. Click "Connect Gmail/G Suite" button. This will direct you to your Google accounts, where you can then choose which inbox to connect. You can also connect an inbox directly by clicking the "Send Gmail Invitation" and entering the email address where your marketing replies go. Repeat this step to invite multiple.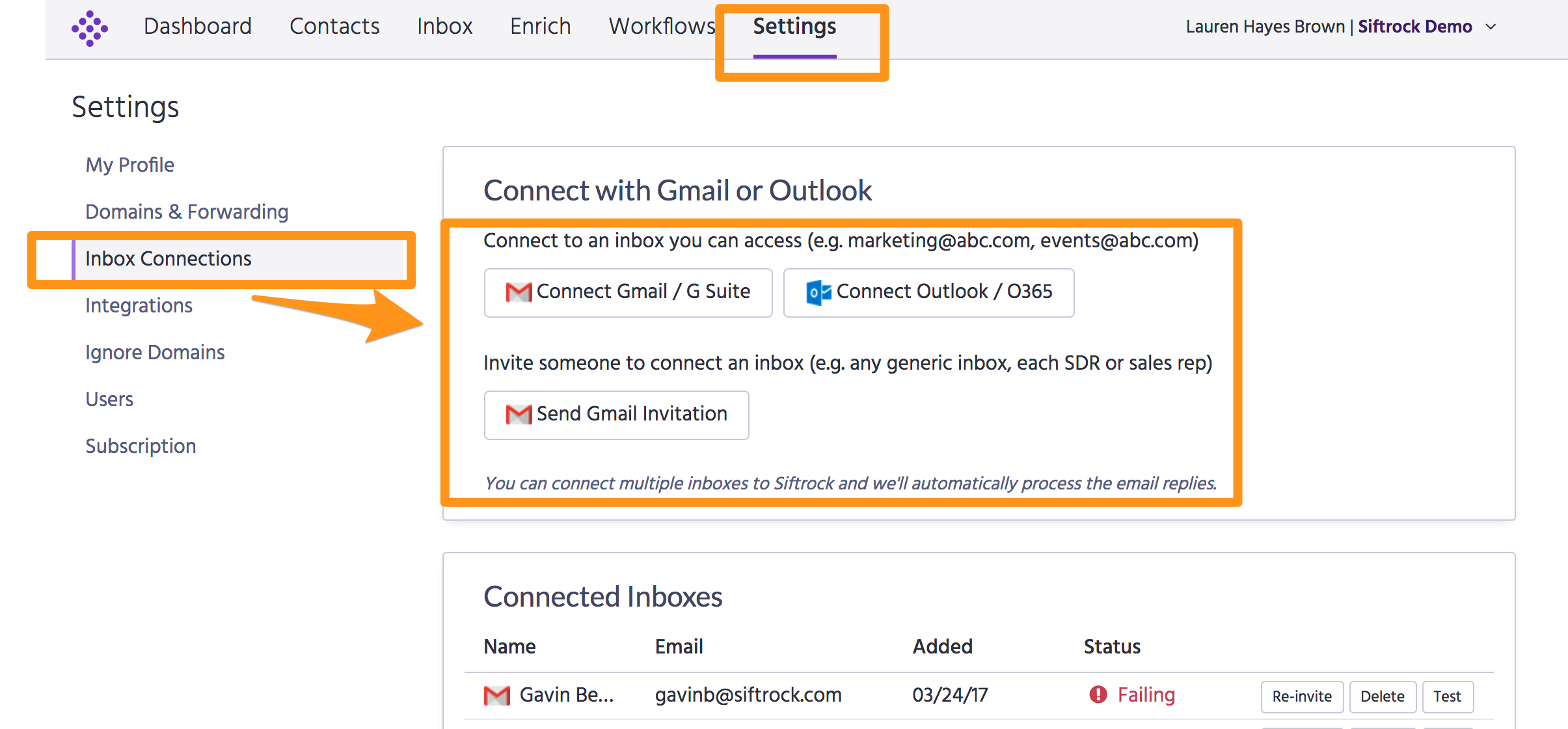 _________________________________________________________
Step 2: Connect with Google
DIRECT CONNECTION: If you choose to connect an Inbox directly, you'll be redirected to your Google accounts, where you can choose which account you'd like to connect with. 
Once you click the button or choose your account, you will have to grant Siftrock access to your google account for replies. Note: If you have multiple google accounts, make sure to authenticate with the one associated with your reply inbox (e.g. marketing@abc.com or webinars@abc.com)
INVITE: If you send an invitation, you will receive a email to your marketing inbox with a button to connect your inbox.

After the inbox is connected, Siftrock will start processing data immediately. Connected inboxes are managed separately from users - this allows you to have some team members contribute data from their inbox without having access to Siftrock.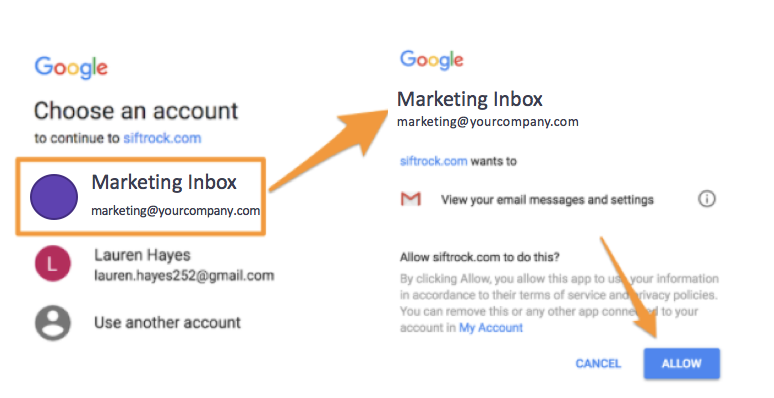 _________________________________________________________
Step 3: Monitor Status (Admin)
Once your inboxes are connected, you'll see green check mark and "Good" next the name. Data will be flowing into your account within ~5 minutes. By default we backfill for 30 days and then process all replies moving forward. You can re-invite or delete connected inboxes anytime. If an authentication ever has a problem, it will be displayed a "Failing" and allow you to re-connect.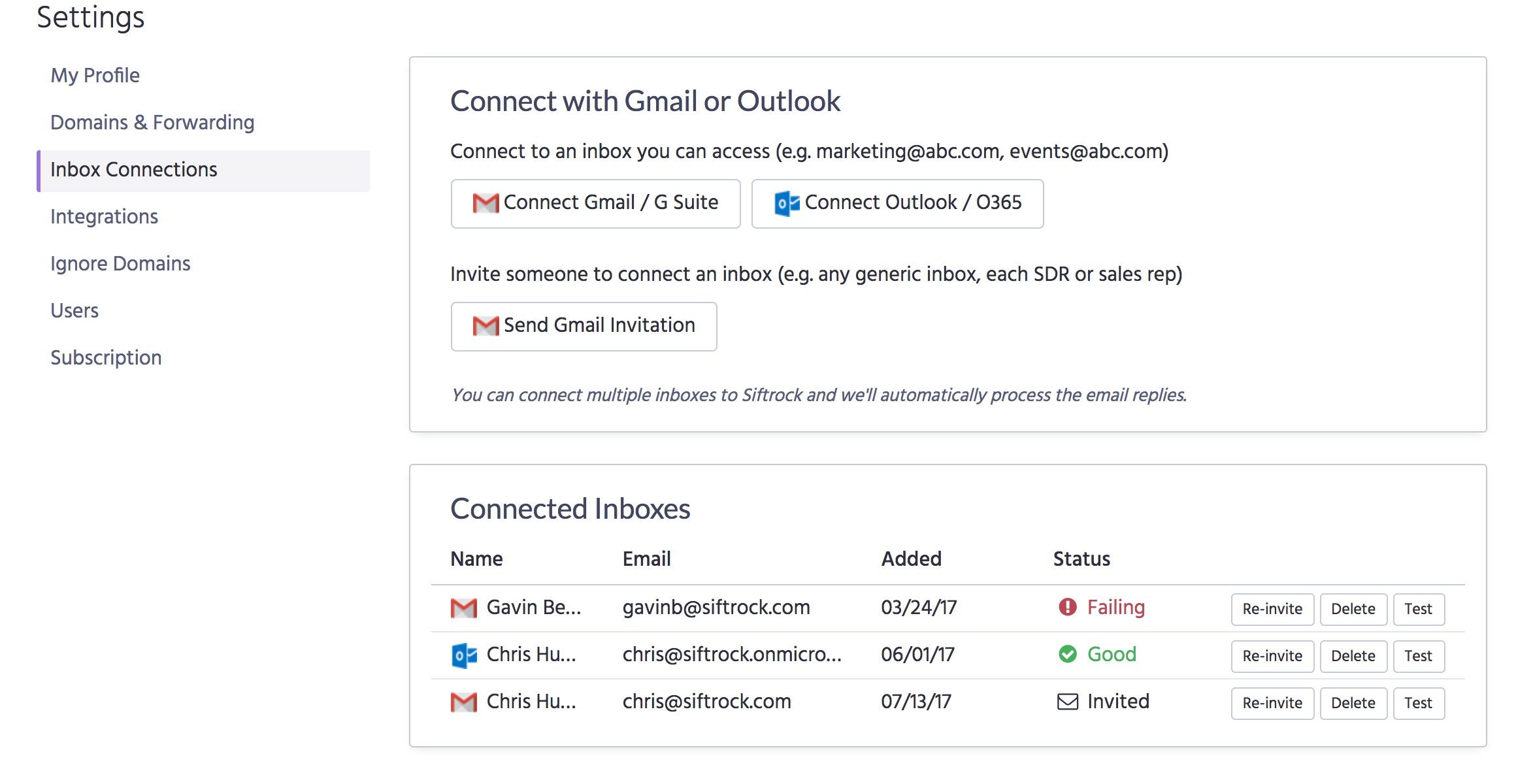 To resolve a "Failing" inbox, delete it from the list and re-add it.

---
---